---
From its ignoble beginnings a century after Tiro's scholarly et, the ampersand assumed its now-familiar '&' form with remarkable speed even as the Tironian et stayed rigidly immutable.
The symbol's visual development is perhaps best documented in a formidable piece of typographical detective work carried out by one Jan Tschichold, a graphic designer born in Leipzig in 1902.1 Famed as an iconoclastic rule-maker and breaker, Tschichold swung from extreme to extreme in a career which rewrote the rules of book design and typography. His 1928 manifesto Die neue Typographie2 called for the abandonment of traditional rules of typesetting in favour of rigorous Modernism. Then, arrested by the Nazis in 1933 as a 'cultural Bolshevik',3 Tschichold reacted strongly to his ill-treatment at the hands of the Third Reich and repudiated his earlier work, seeing 'fascist' elements in the strictures of Modernism. In the process, he earned the ire of his contemporaries as a betrayer of his own principles.4 Despite this, his work remains influential even today.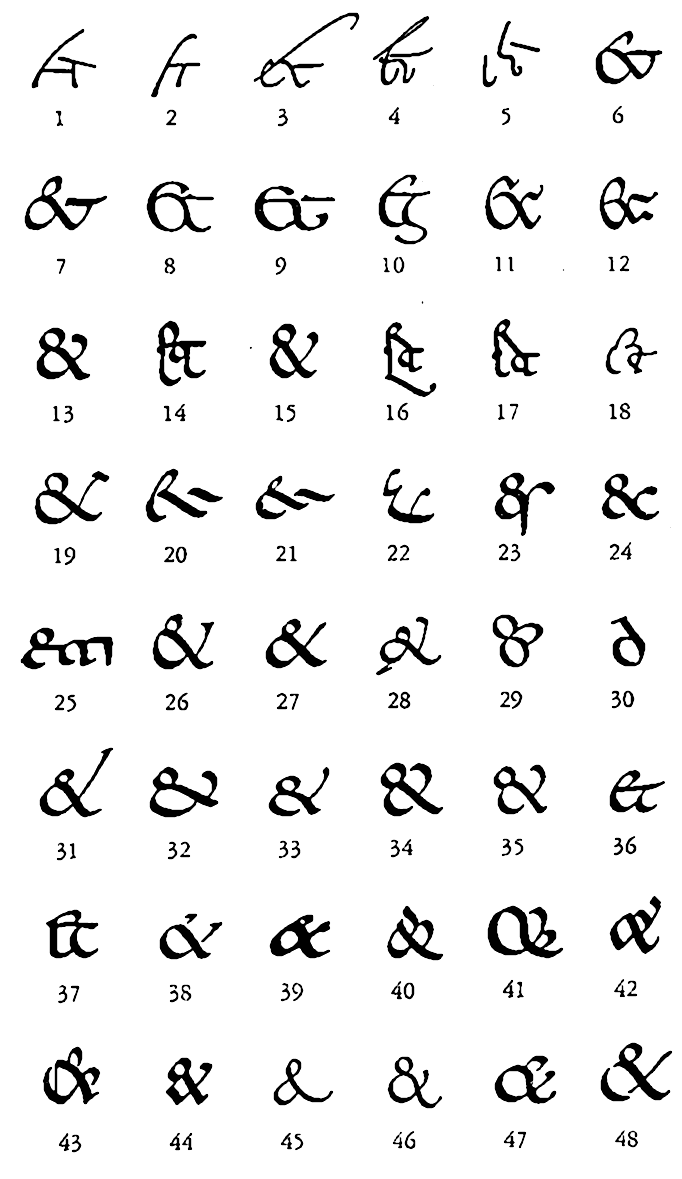 Tschichold's masterful contribution to the study of the ampersand came in 1953 in the form of a short booklet named Formenwandlungen der &-Zeichen,5 or The ampersand: its origin and development,6 as its English translation would have it. Drawing on earlier works by Paul Standard7 and Frederick Goudy,8 Tschichold collected hundreds of ampersands to chronicle the character's evolution from 1st century Pompeiian graffiti, through medieval manuscripts, and finally to 19th century printed forms. Even a single page of Tschichold's menagerie of 'and'-signs contains an embarrassment of typographical riches.
In its serried ranks of ampersands, Tschichold's paper traces the divergent forms the 'and'-sign had assumed by the time the printing press embossed them permanently in metal. Each of the main families of type — roman, italic and Gothic, or blackletter — boasted its own unique 'and'-sign.
So-called 'roman' type — the familiar upright letterforms used almost universally to set long-form texts such as books, newspapers and websites — brings with it perhaps the most regular and recognisable ampersand ('&'). Inspired by, and erroneously named for,* what was thought to be an old Roman script, the first roman typefaces were in fact based on the 9th century Carolingian minuscule of the monk Alcuin.9 Marrying Alcuin's elegant lower-case alphabet to the square, chiselled capitals beloved of ancient Roman stonemasons,10 roman type imparted a lightness and readability previously absent from the dense blackletter of early printed documents. Like those officious Roman capitals, the ampersand which accompanies the roman alphabet is solid, well defined and recognisable.
In contrast, the ampersand associated with italic typefaces is a more playful symbol which wears its heritage as an et-ligature on its sleeve. Often thought of as ancillary to roman characters, italics originally comprised an entirely separate alphabet modelled on the fluid, informal handwriting of a Renaissance scribe and copyist named Niccolò Niccoli.11 The sloping, condensed letterforms of the first italic typefaces made more efficient use of paper than their roman counterparts and due to this many early printed books were set entirely in italics.
Strange as it may seem now, the earliest italic fonts came with lowercase letters only; the solution was to set Italic Lowercase With Roman Capitals.12 Not only that, but even after italics had acquired proper uppercase letterforms, the combination of roman and italic type in the same work — one for contrast or emphasis and the other for body text — did not become common until the 17th century.13
Italic letterforms diverge from their roman counterparts in small but noticeable ways: compare aefkpvwz with 'aefkpvwz', for example.† Though not all these variations are present in all italic alphabets, true italics (as opposed to sloped, or 'oblique' roman letterforms) will always display at least some of these distinguishing features. Similarly, the italic ampersand has become something of a playground for typographers, and many italic ampersands are intricately designed works of art when compared to their conformist roman counterparts.14
Lastly, and somewhat aberrantly, the Gothic, or blackletter style of writing — characterised by angular letterforms and densely packed text — more commonly forewent the ampersand altogether and instead made use of the Tironian et.
Blackletter shares a common ancestor with roman type: while the typecutters of the Italian Renaissance reproduced the original 9th century letterforms of Carolingian minuscule in their 'roman' typefaces, blackletter instead represents the evolution of Alcuin's alphabet as it continued in daily use.15 Most prevalent in Germany and Northern Europe, when Johannes Gutenberg printed his forty-two-line bible in 1455, intended to mimic a handwritten manuscript, blackletter was the obvious alphabet in which to set it.16
The Tironian et garners a scant forty-eight entries in Tschichold's taxonomy (most of them in blackletter) compared to over two hundred ampersands, and this is symptomatic of its ultimate marginalisation in the ill-fated blackletter alphabet. While the ampersand went from strength to strength, providing a canvas on which calligraphers and typographers could indulge their artistic proclivities, the Tironian notes suffered near-extinction in the Middle Ages, victim of a curious linguistic witch hunt. The secrecy and cipher-like nature of both traditional runic writing and shorthand did not sit well with the distrust of witchcraft and magic prevalent in those times, and Tiro's system fell out of use.17 Briefly revived in the 12th century, and later inspiring a series of copycat notations in English and other languages,18 the notae Tironianae were nevertheless a spent force. The Tironian et was the sole survivor, soldiering on in blackletter type until it too fell out of use in the mid 20th century.19 Ironically, this supremely Germanic alphabet was finally banished by a 1941 Nazi decree condemning it as Judenlettern, or 'Jewish characters',20 and today it appears mainly in newspaper mastheads and the occasional document intended to convey a Teutonic flavour.
Today, the ampersand reigns almost supreme, with the Tironian et surviving in the wild only in Irish Gaelic:
Like this road sign, the Tironian et showed the way, but the ampersand was the real destination.
1.

J Tschichold and R McLean, "Introduction to the English Language Version", in, 2006. ↢

2.

Jan Tschichold, Die Neue Typographie : Ein Handbuch für zeitgemäss Schaffende., 1928. ↢

3.

"Jan Tschichold (German Typographer and Author)", Encyclopaedia Britannica, June–2011. ↢

4.

Otl Aicher, "Typographical Warfare", in Texts on Type: Critical Writings on Typography, ed. Steven. Heller and Philip Meggs B, 2001. ↢

5.

Jan Tschichold, Formenwandlungen Der &-Zeichen., 1953. ↢

6.

Jan Tschichold and Frederick Plaat, {\{}The Ampersand: Its Origin and development{\}}, 1957. ↢

7.

Paul Standard and N Y ) Typophiles (New York, The Ampersand : Sign of Continuity, 1936. ↢

8.

Frederic Goudy W and Frederic of of Congress W, Ands & Ampersands, from the First Century B.C. To the Twentieth A.D., 1936. ↢

9.

C U Clark, "How Our Roman Type Came to Us", 1912. ↢

10.

Robert Bringhurst, "7.2.1 The Renaissance Roman Letter", in, 2008, 122-23. ↢

11.

B L Ullman, "A Rival System - Niccolò Niccoli", in, 1974, 59-77. ↢

12.

Robert Bringhurst, "7.2.2 The Renaissance Italic Letter", in, 2008, 124-25. ↢

13.

Robert Bringhurst, "3.4 Tribal Alliances and Families", in The Elements of Typographic Style : Verson 3.2, 2008, 57. ↢

14.

Jonathan Hoefler, "Our Middle Name", April–2008. ↢

15.

Bernhard Bischoff and University of Cambridge, "Latin Handwriting in the Middle Ages", in Latin Palaeography: Antiquity and the Middle Ages, 1995, 127-36. ↢

16.

"The Appearance of the Bible", The Gutenberg Bible at the Ransom Center, June–2011. ↢

17.

Allien Russon R, "History and Development of Shorthand (shorthand)", Encyclopaedia Britannica, June–2011. ↢

18.

Bernhard Bischoff and University of Cambridge, "Latin Script in Antiquity", in Latin Palaeography: Antiquity and the Middle Ages, 1995, 80-82. ↢

19.

Theodore Rosendorf, "Blackletter", The Typographic Desk Reference, 2009. ↢

20.

G Reuveni, "From Reading Books to Consumption of Books and Back Again", in, 2006. ↢